The Hell Of Creation free download. This game gives players a new and attractive experience, combining horror elements and puzzles to awaken the constant feeling of suspense for FNAF fan games.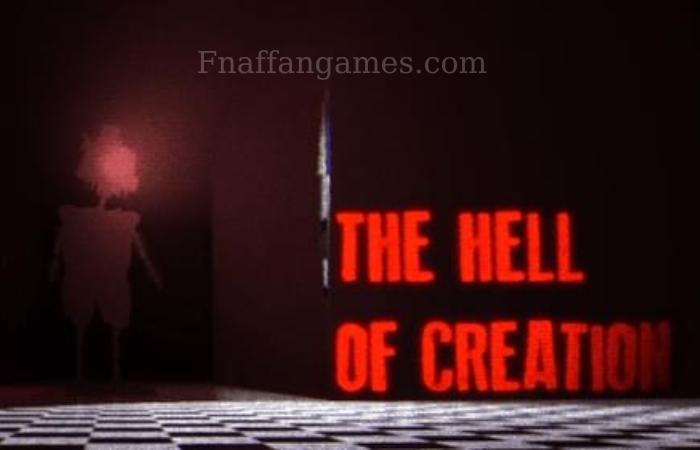 The Hell Of Creation Story
The story in The Hell of Creation Fnaf game revolves around a character named Mike Schmidt, who has received a security job at the Fazbear Entertainment factory. It was a pretty special and risky job, but Mike decided to accept it for the goal of making money.
But when Mike set foot in the Fazbear Entertainment factory, he quickly realized that not only the robots inside the factory but also the devil. The game revealed that the spirit of an evil demon poisoned the factory, and now robots have turned into scary creatures.
During the game, Mike must find a way to survive and escape from the factory. He must use his items and status to avoid robots and demons. Every night, challenges will be harder and Mike faces more and more brutal monsters.
Over the night, Mike began to discover the secrets behind Fazbear Entertainment and the spirit of the devil, and he had to work through puzzles and learn to find a way to destroy the devil and save himself and others.
Finally, Mike had to find a way to destroy the evil demons in the factory and prevent them from continuing to spread chaos and danger. The game ended with Mike becoming a hero, preventing nightmares and escaping The Hell of Creation.
Gameplay
In this game, players will play as maintenance employees to monitor a virtual amusement park similar to Freddy Fazbear's. However, your journey will not stop at simply keeping the robots safe.
Instead, The Hell of Creation takes players into a strange and nightmare world, with scary and challenging monster characters. Players will not only have to look after and protect themselves from ordinary robots but also face monstrous and devil creatures.
The gameplay in The Hell of Creation is highly interactive, players can control the main character, move in the environment, interact with items, and solve puzzles to continue the story. The game also supports 3D audio, creating a more authentic and scary sound space.
If you have liked the games on the FNAF fan games list before, try this game right away, you will not be disappointed.
Screenshots
Download Link:
Gamejolt Server:
Developer:
Nytetime Games