Five Nights at Sonic's: Maniac Mania DEMO is a typical horror survival FNaF fan game. It's free to download and practice your survivability! Are you ready to start your story?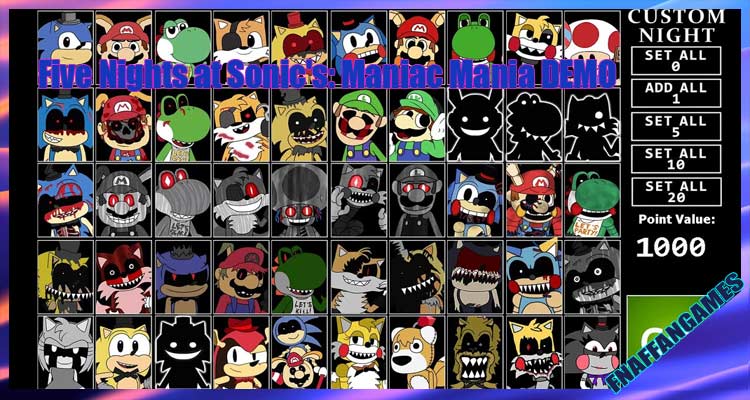 How to play Five Nights at Sonic's: Maniac Mania with DEMO version
It is also similar to the way you will experience in the original Five Nights at Sonic's: Maniac Mania.
So, it is a creepy challenge set in a dark building in the local. In which, you can face-to-face a series of scary characters from 6 chapters of the FNaS series.
Start off with a night watchman and you need to complete your job without being killed by lurking animatronics!
Your enemies can move, hide, and launch deadly jumpscares. Meanwhile, you are forced to keep the office, supervise via cameras.
Along with other devices, these tools will be the main weapons to protect your guard from monsters.
Attempt to use the power supply thriftily until you win!
Five Nights at Sonic's: Maniac Mania (DEMO) brings back 5 stages alongside a lot of dangerous situations. Can you prevent all opponents from breaking into your area and become the winner? Do not forget to manipulate items around the space carefully! It's actually effective to unlock the final victory! Good luck!
Screenshots
Developer:
SmilerFurcifer @PyroRapidFox